Mania Football
Real Madrid and AC Milan Advance to Champions League Semifinals after Eliminating Chelsea and Napoli
Real Madrid weren't wasting any chances as they went on to knock Chelsea off the Champions League and advance to the semifinals.
Real Madrid and AC Milan have advanced into the Champions League Semi-finals after eliminating Chelsea and Napoli off the league in the second round of the UEFA Champions League Quarterfinals. Real Madrid's win was expected as they were already 2-0 ahead in aggregate after the first round, but AC Milan's win has come as a surprise as Napoli are 22 points ahead of them in the Serie A and are a significantly worse team qualitywise.
Real Madrid Knock Chelsea Off the UEFA Champions League
Real Madrid weren't wasting any chances as they went on to knock Chelsea off the Champions League and advance to the semifinals. Real went on to make things right for themselves after Chelsea squandered chances in the first half. Real Madrid beat Chelsea 2-0 and bolstered their 2-0 aggregate lead after the first round to 4-0 on aggregate.
Rodrygo Scores a Brace in the Champions League Knockout Stage as Real Send Chelsea Packing
On resumption after the halftime break, Rodrygo went on to score the opener in the 58th minute, and made it a brace with his second in the 80th minute. Karim Benzema and Vini Jr. were not in perfect form but Rodrygo managed to fill in those huge boots and get the goals. Bravo!
🤳 @RodrygoGoes: "Madridistas, we're in the semi-finals! Thanks for your support! Hala Madrid!"#UCL pic.twitter.com/X9eqNc7Goi

— Real Madrid C.F. 🇬🇧🇺🇸 (@realmadriden) April 18, 2023
Real Madrid's advancement to the UCL Semifinals makes their manager Carlo Ancelotti a ninth-time UCL Semifinals manager. Carlo lauded goalkeeper Thibaut Courtois for his impeccable saves.
🎙️ @MrAncelotti: "We're very happy to be in another semi-final. We're going to fight to reach the final. It was a difficult match, as expected. Chlesea played a great 1st half, @thibautcourtois helped us keep it a draw. Our 2nd half was better, we were able to move the ball well. pic.twitter.com/gXeV6wF3Ym

— Real Madrid C.F. 🇬🇧🇺🇸 (@realmadriden) April 18, 2023
Chelsea Still in a Slump and The Dilemma of How to Move Forward
Chelsea showed improvement in their game against Real Madrid but despite creating really good chances, couldn't just score the goals. Chelsea now face a very expensive dilemma when it comes to the wages they are currently paying players, and deciding which players to get rid of.
Chelsea disappointing moment does not change as it's four defeats in four games for Frank Lampard as caretaker coach 🔵 #CFC

Seven goals conceded, one scored and Chelsea are now out of the Champions League.

Chelsea will have new head coach in the summer, for sure. pic.twitter.com/4FPPbQ04Fo

— Fabrizio Romano (@FabrizioRomano) April 18, 2023
The thing is, Chelsea have to be careful who they transfer out as they do not have a permanent manager at the moment, who could make a good decision on transfer outs and be left with the players he thinks can take the club forward. Chelsea's loss today was their fourth consecutive loss of such magnitude since 1993.
AC Milan Upends Napoli Kicking them Off the UEFA Champions League
AC Milan upended Napoli as they kicked them out of the UEFA Champions League. AC Milan came into the game with a 1-0 lead on aggregate and made it 2-1 after drawing Napoli 1-1 in the second round. Olivier Giroud opened the scoring for Milan in the 43rd minute with Victor Osimhen coming to Napoli's rescue in stoppage time. Osimhen's effort was, however, too little too late as AC Milan kicked them off the UCL on a 2-1 aggregate lead.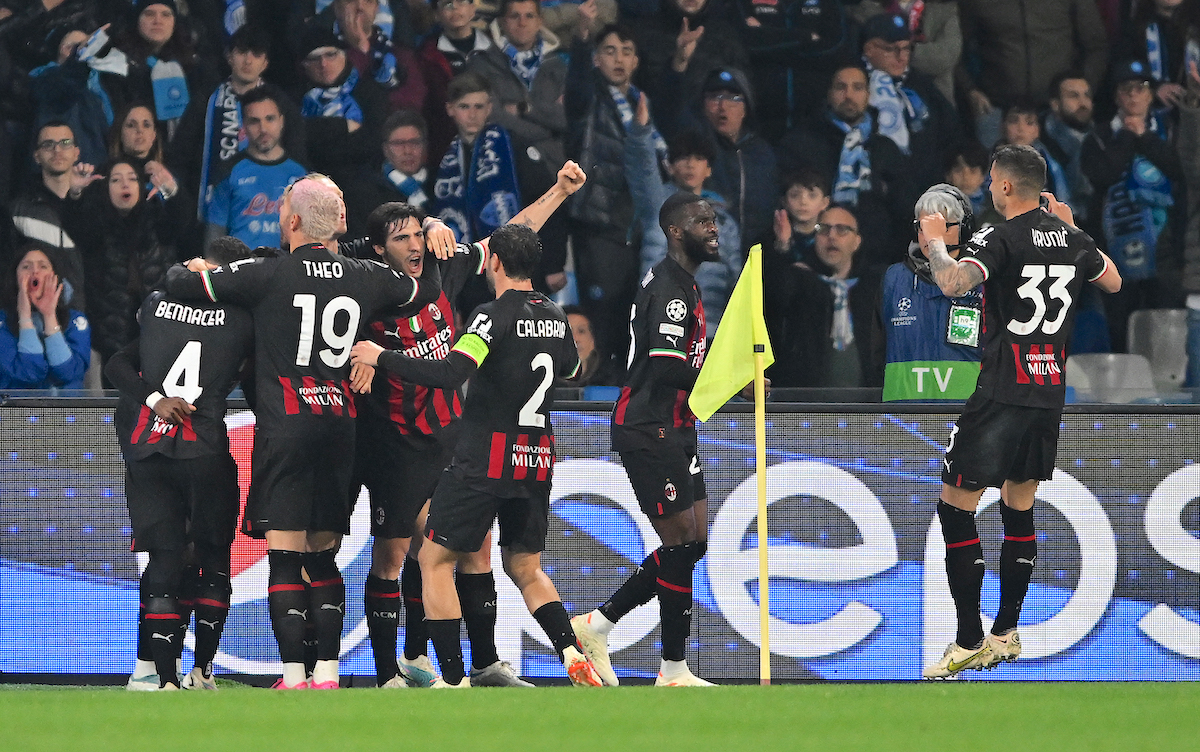 A Lucky AC Milan Beats a Better Napoli
Mind you, Napoli are 22 points ahead in Serie A and the expectation was that Napoli, even owing to their wonderful performance in the UCL this season, were the ones who'd be heading to the semifinals. Well, Milan were the lucky ones and that means we may just have a Milan derby in the UCL Semifinals if Inter Milan are to advance.
This is Milan. 🔴⚫#NapoliMilan #UCL #SempreMilan pic.twitter.com/mOs5jW96t9

— AC Milan (@acmilan) April 18, 2023