Football
Tottenham Beat Man City as Wolves Floor Liverpool Plus EPL GW 22 Results
Liverpool have fallen from grace and Wolves were keen to capitalize on the team's emergent flaws.
Gameweek 22 of Premier League 22/23 delivered and Tottenham went on to beat Manchester City with Wolves flooring Liverpool. The weekend was action-packed and full of football, and here's what went down in Matchday 22 of 38 of the English Premier League 2022-2023.
Tottenham Beat Man City
Manchester City were super unlucky last weekend as Tottenham beat them 1-0, thanks to a goal by Harry Kane. City's downfall came after a sloppy mistake in defense that Spurs capitalized on, and Kane quickly converted. City couldn't recover and had to settle for zero points.
Harry Kane Becomes Tottenham's All-Time Top Goal Scorer
Harry Kane's goal against Manchester City was his 267th for Tottenham, making him the team's all-time top goal scorer. Kane's goal helped him surpass Jimmy Greaves's record of 266 goals for the club, cementing his name in the record books. Kane has consistently been an asset for Tottenham, and we can't wait to see what more he achieves with the club.
Wolves Floor Liverpool
GW 22 of EPL 22-23 also saw Wolves floor Liverpool 3-0. Liverpool have fallen from grace and Wolves were keen to capitalize on the team's emergent flaws. For instance, the first goal by Wolves was a Joel Matip own goal, resulting from a deflection. Wolves' two other goals came from Craig Dawson and Reuben Neves who performed spectacularly for their team. Liverpool are seemingly lost and still floundering greatly.
Are Liverpool Going to Resurface?
Liverpool have gone under, we must say and we are growing very concerned about what's happening in the team. Did the rumors of a sale destabilize the club or what happened to Liverpool? We are yet to pinpoint the real cause of their recent dismal performance but we hope Jurgen Klopp can bring the team back to its glory days.
A 10-Man Manchester United Beat Crystal Palace after Casemiro is Shown a Red Card
GW 22 also saw Manchester United face off with Crystal Palace. United opened the scoreboard with a penalty conversion by Bruno Fernandes. Bruno took his time and it paid off. United's second came from Marcus Rashford who made a beautiful tap-in. Rashford remains lethal as ever. Things, however, turned when Man United's Casemiro was shown a red card after a shoving altercation with Crystal Palace's players. Minutes later, Crystal Palace made their single-reply goal thanks to Jeffrey Schlupp.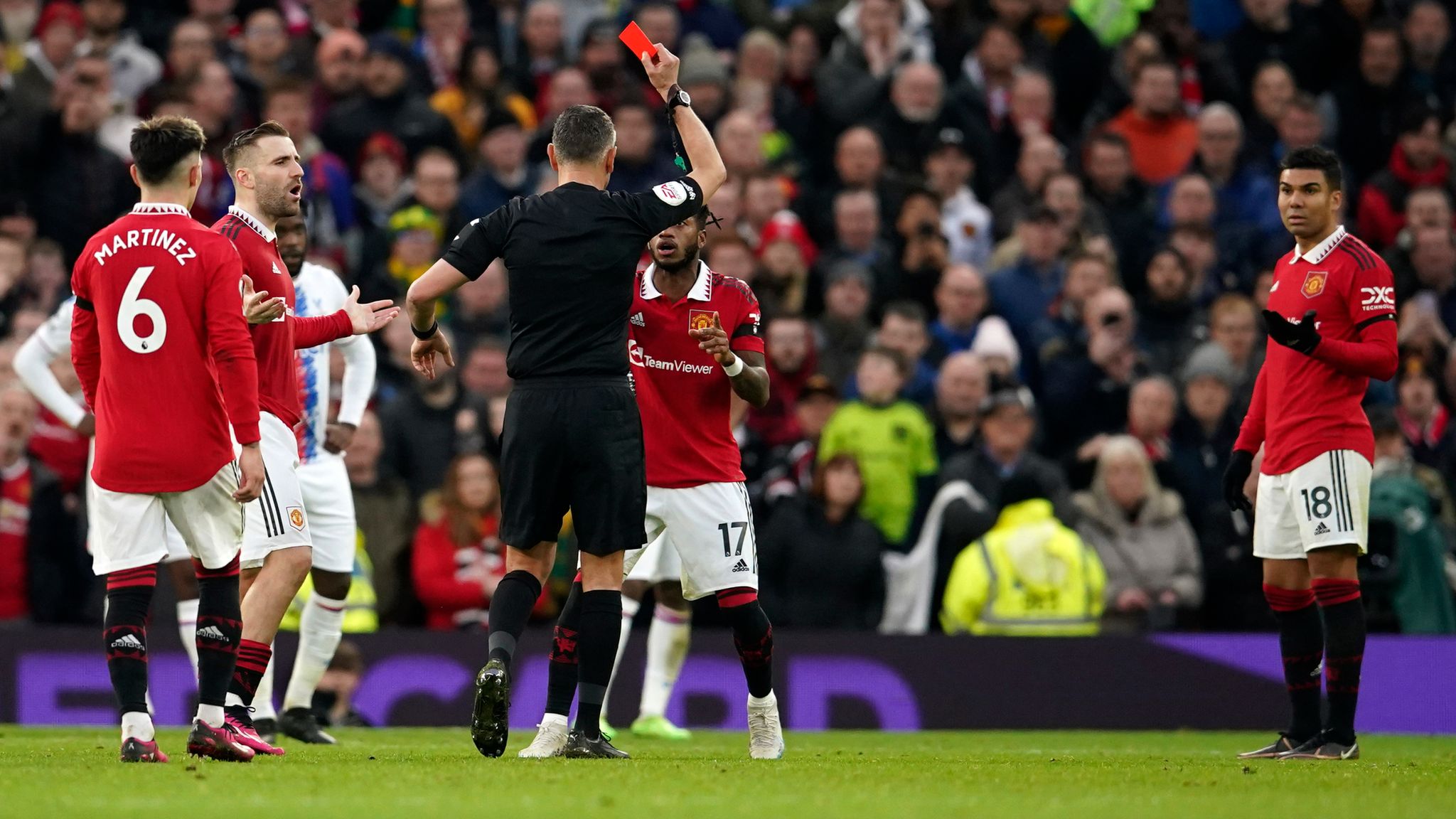 Everton Beat Arsenal
EPL GW 22 also saw Everton beat Arsenal 1-0. Arsenal, for once, weren't that good on the pitch, with Everton's James Tarkowski making sure to take advantage of that in the 60th minute. Arsenal are, however, very comfortable in the EPL standings and we are still very impressed by their wonderful run so far.
Chelsea Draw Fulham
Chelsea, on their part, drew Fulham 0-0. Chelsea made numerous attempts at goal but it seemed that it was just not their day. Fulham were also unable to get the ball behind Chelsea's net, with both teams having to settle for a single point each.
Chelsea Sign World Cup Winner Enzo Fernandez from Benfica for a Record Sum
The game also saw Chelsea's new signing Enzo Fernandez debut for the club. Chelsea bought Enzo from Benfica for a record 106.8 million Euros, a European club record. Enzo made an attempt at goal but his efforts didn't come to fruition. Enzo, on being signed, said he wants to take Chelsea "to the next level".
Will Chelsea Go Back to Performing Well?
Chelsea may seem down at the moment but I am sure they'll come back up. They have the players and an owner who is very passionate about the team. As such, all other EPL teams should watch out for Chelsea because I am sure they'll resurface in a big way.
Other EPL GW 22 Results
In other EPL GW 22 results, Brighton beat Bournemouth 1-0, Brentford beat Southampton an impressive 3-0, and Leicester City Beat Aston Villa 4-2. Newcastle drew West Ham 1-1 and Nottingham Forest beat Leeds United 1-0. Manchester United will play Leeds today, to recoup a postponed Matchday 8 game. This may as well be United's chance to build up on points and try and reach Man City in the EPL Table.
EPL Table
The EPL Standings so far read like Arsenal's wish board. Arsenal remain atop the EPL table after GW 22, with a solid 50 points. Manchester City are in second place with 45 points, closely trailed by Manchester United who are third with 42 points. In fourth place is Newcastle with 40 points, closely followed by Tottenham who are fifth with 39 points.
In sixth place is a well-performing Brighton with 34 points, followed by Brentford who are seventh with 33 points. In eighth place is Fulham with 32 points. Chelsea follow in ninth place, with a mere 30 points. They are followed by a floundering Liverpool who are tenth in the EPL table with 29 points. Liverpool may as well go to Division 1 with such a dismal performance.