Mania Kicks
Yeezy Slides vs Crocs: Are Ye Slides Better than Crocs?
Yeezy Slides are increasingly rare as they are quickly sold out every time they come onto the shelves.
Yeezy slides are plastic slip-ons produced by Kanye West x Adidas. They come with a serrated sole that features numerous 'fins' underneath for that extra comfort. Many people compare the Yeezy Slides to Crocs as they fall under the same category of plastic shoes. Question is: Are Yeezy Slides better than Crocs?
Yeezy Slides Have a Much Firmer Plastic Top and Overall Build
Yeezy Slides boast of a firm plastic build that does not tear easily. In most instances, Crocs, especially generic ones, will have a weak plastic build and top and are likely to tear after some time. Yeezy Slides are firm and will last you longer and therefore, are definitely worth the price bump. Even so, original Crocs still do well in terms of durability.
Yeezy Slides are Better Sprung
Due to their serrated sole and fin-like underneath, the Yeezy Slides are better sprung, and that results in better walkability. Crocs, on the other hand, are often flat-soled and thus have a poor spring effect while walking. The difference may be difficult to notice if you're used to Crocs but on wearing the Yeezy Slides you'll definitely feel it.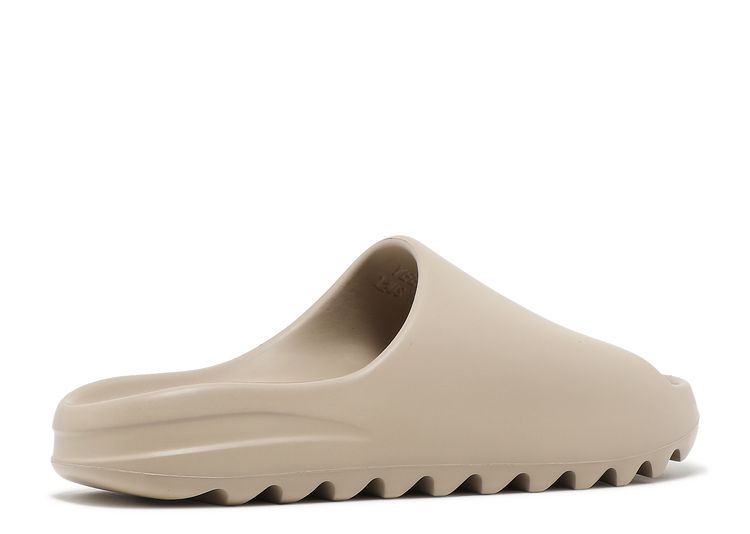 Yeezy Slides have a Better and Deeper Color Palate and Overall Premium Style
The color palate for Yeezy Slides is much more toned and deeper, giving the slides a better overall style and aesthetic. On the other hand, Crocs mostly come in generic and over-bright colors and lack that exclusive style and feel that we all want from fashion items. In that respect, the Yeezy Slides have a more premium style and feel and the price difference will really be felt due to the better quality of the slides.
Yeezy Slides are Rare, More of an Enthusiast's Item, and Have High Resell Value
Yeezy Slides are increasingly rare as they are quickly sold out every time they come onto the shelves. The beauty of this rarity is that they have such a good resell value. The name brand also gives them this resell ability that is simply unattainable for Crocs. It's almost insane to think that you would resell Crocs but very possible for the Yeezy Slides, especially if you bought several pairs and have new ones you've not worn. If you're a sneakerhead you know that resell value is key to maintaining and feeding a sneaker empire.
Mania Drip Store
We just launched our new apparel and shoes store: Mania Drip Store. Feel free to check out our products and cop some drip.
Astronaut #04 B/W Premium Pullover Hoodie
Astronaut B/W takes an exclusive look inside an NFT collection that we have in the works. This hoodie features a design from the upcoming NFT collection and is available in futuristic yet subtle colors.
Buy Now
Where to Buy Yeezy Slides and Crocs?
You can get both the Yeezy Slides and Crocs on Amazon using the button below.
💡
We may get a commission when you buy Ye Slides or Crocs with our link. As an Amazon Associate I earn from qualifying purchases.